I've had my little green eyes on these lovely Coupe's since they first touched the beautifully finished, handcrafted, wooden selves at
Anthropologie
. The light pink giving your bubbles and kiss of rose gold for the night. *sigh* Dream, Dream, Swoon.
To not mention the 20s art deco construction would be a complete disappointment. It's lovely 24k gold rim as the final touch makes you feel right out of a
Casablanca
or in a hotel restaurant before going to the opera or it makes you feel like
Marilyn Monroe
. They're deliciously compact and though have been photographed purely for Spring, I've envision them more for the Fall and straight onto Winter.
Definitely on my home buy list which, alas, will probably not be for a few more years but a girl can dream, can't she?
What are your favorite Anthro loves?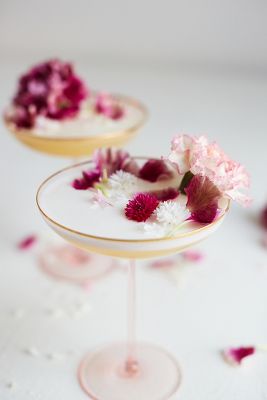 Remaining Anthopologie shoot is
here